When Lady Gaga was catapulted to global stardom in 2008, her looks commanded as much attention as her lungs. This was an era that saw the resurgence of the boyfriend jean (remember Katie Holmes causing a frenzy stepping out in a pair of her then-husband Tom Cruise's low-rise straight cuts?) and Hervé Léger bandage dresses were red-carpet ubiquity. Gaga, meanwhile, marched to the beat of her own drum in lace-appliquéd bodystockings and dresses made from raw meat — a sartorial protest staged at the 2010 MTV Video Music Awards against the way the US army treats gay soldiers.
Over the years, Gaga has proved to be the most adventurous of fashion chameleons both on and off stage. (Check the 2019 House of Gaga outfit archive if you need proof.) There have been disco-ball corsets (see her 2009 Glastonbury performance), a rhinestone cowboy look for Saturday Night Live's episode with Tom Hanks, and barely there gowns adorned with feathers. And that was before Gaga turned silver-screen starlet for her Oscar-winning performance in A Star Is Born.
Hot on the heels of the release of her single Stupid Love from her forthcoming album Chromatica (set to be released 31 December), this past weekend Gaga lead One World: Together at Home. The star-studded virtual event from Global Citizen and the World Health Organization supporting the fight against Covid-19 saw Gaga — who has already raised $35m to help frontline staff and aid coronavirus relief efforts — perform alongside famous friends including Billie Eilish, Lizzo and Taylor Swift.
In light of the big night, we recap all of the award-winning star's most fantastical stage outfits.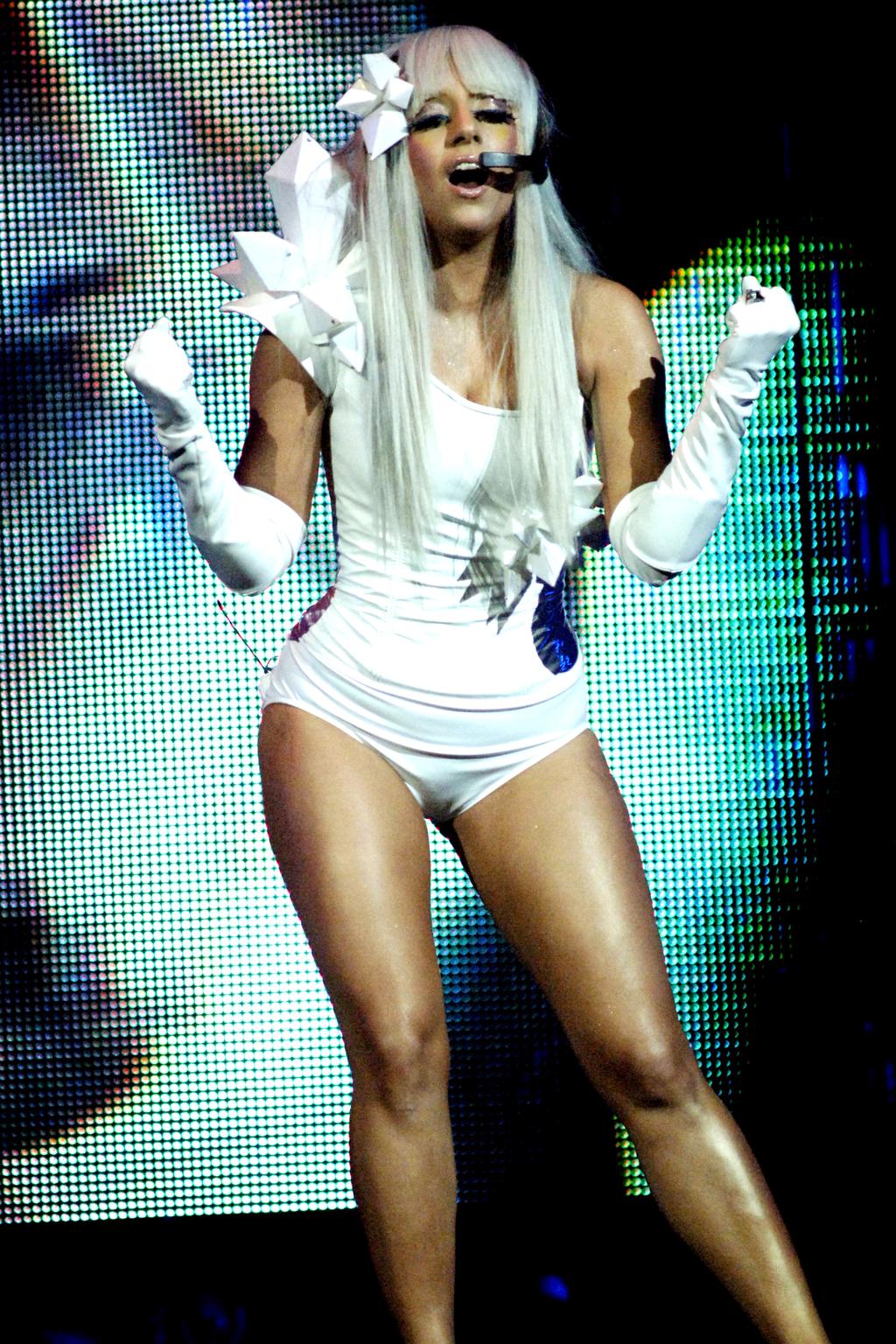 2/21
Gaga took to the stage in San Jose, California, in 2008 sporting a white bubble leotard with crystal-reminiscent spikes jutting out of her form-fitting mini dress.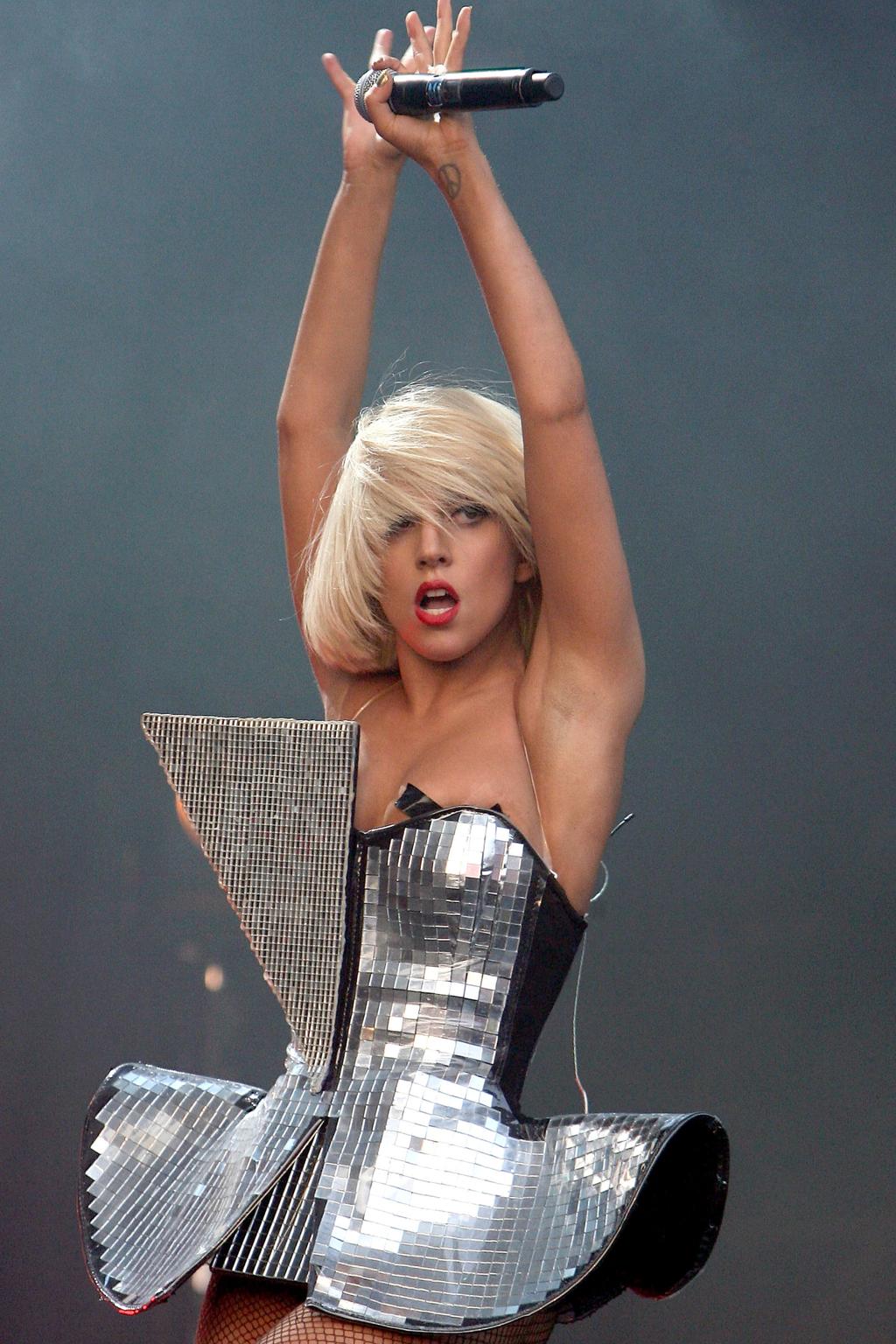 3/21
2. Arguably one of the defining moments in the star's career, in 2009, she performed day two of Glastonbury in a futuristic metallic dress.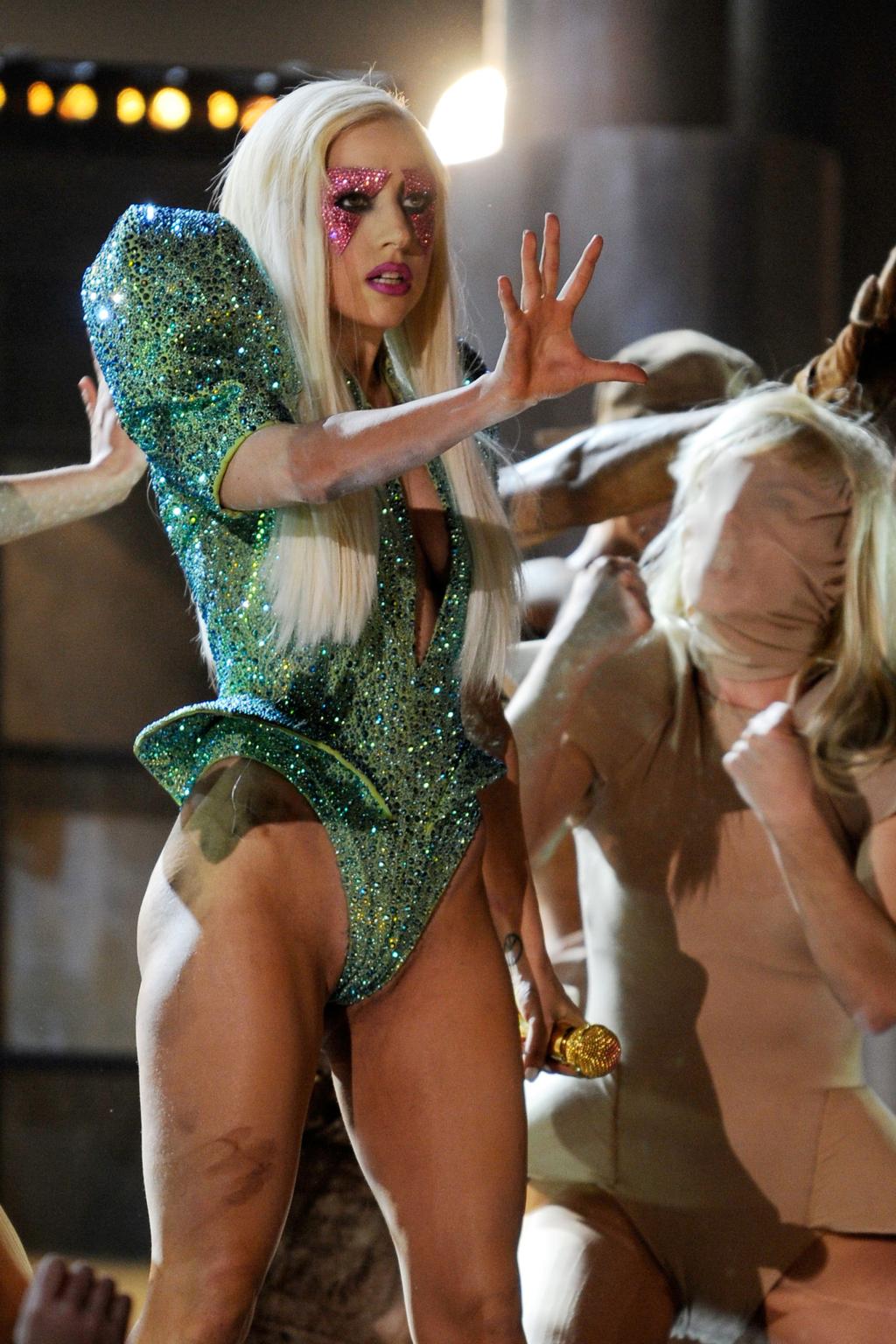 4/21
3. Gaga was nominated for five Grammy awards at the 52nd award ceremony, 2010, scooping up two accolades (Best Dance Recording and Best Electronic/Dance album). Marking the momentous evening with a dazzling performance of Paparazzi, she sparkled in a custom bejewelled bodysuit by Giorgio Armani.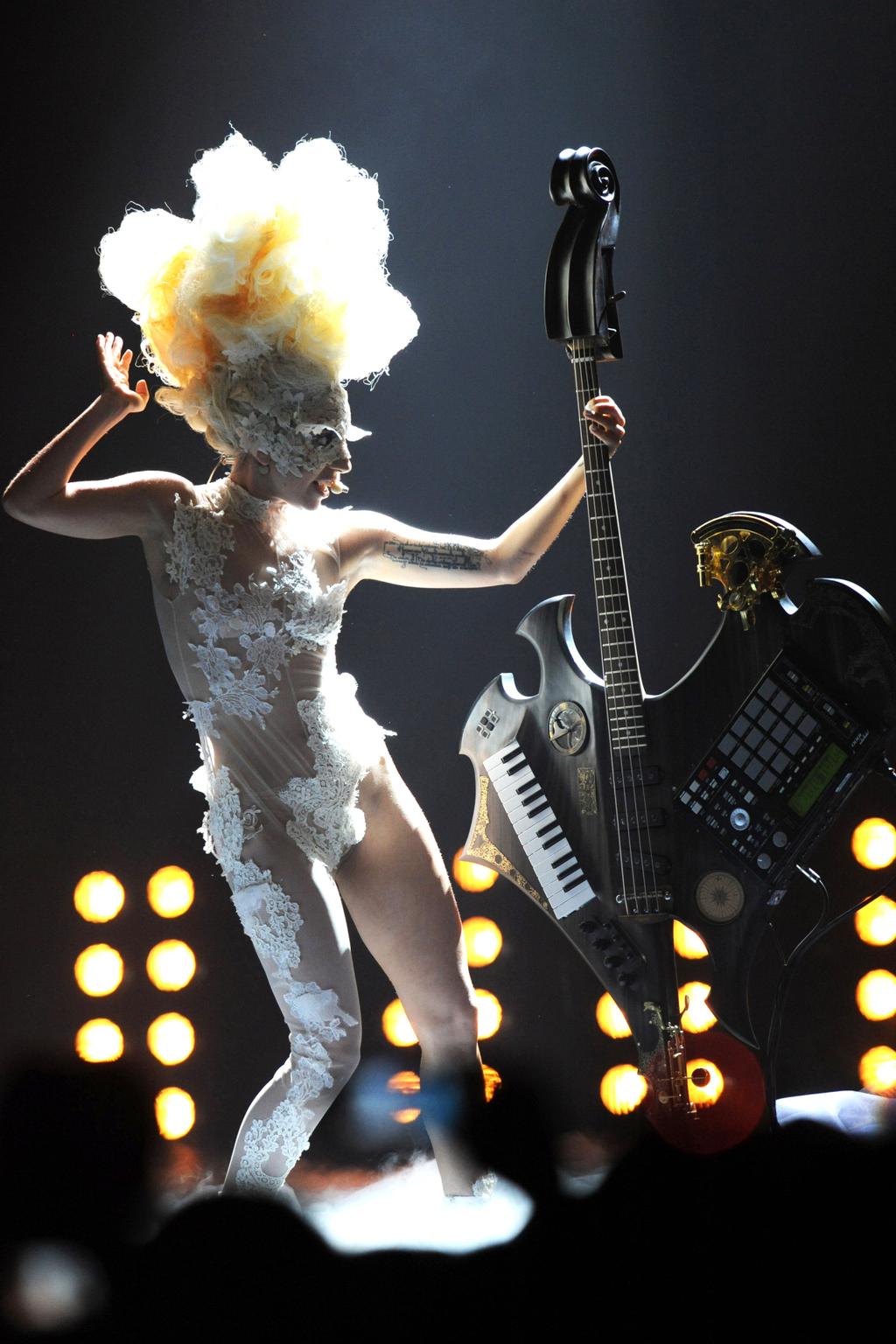 5/21
4. The singer commanded attention at the 2010 Brit awards in a lace bodysuit by Alex Noble and a Philip Treacy mask, while serenading the crowd with a montage of Telephone and Dancing in the Dark, reportedly paying her respects to the late designer Alexander McQueen who's untimely death took place the week before.
6/21
5. The multitalented musician flexed her sartorial muscles in a PVC dress and perspex keyboard in Paris.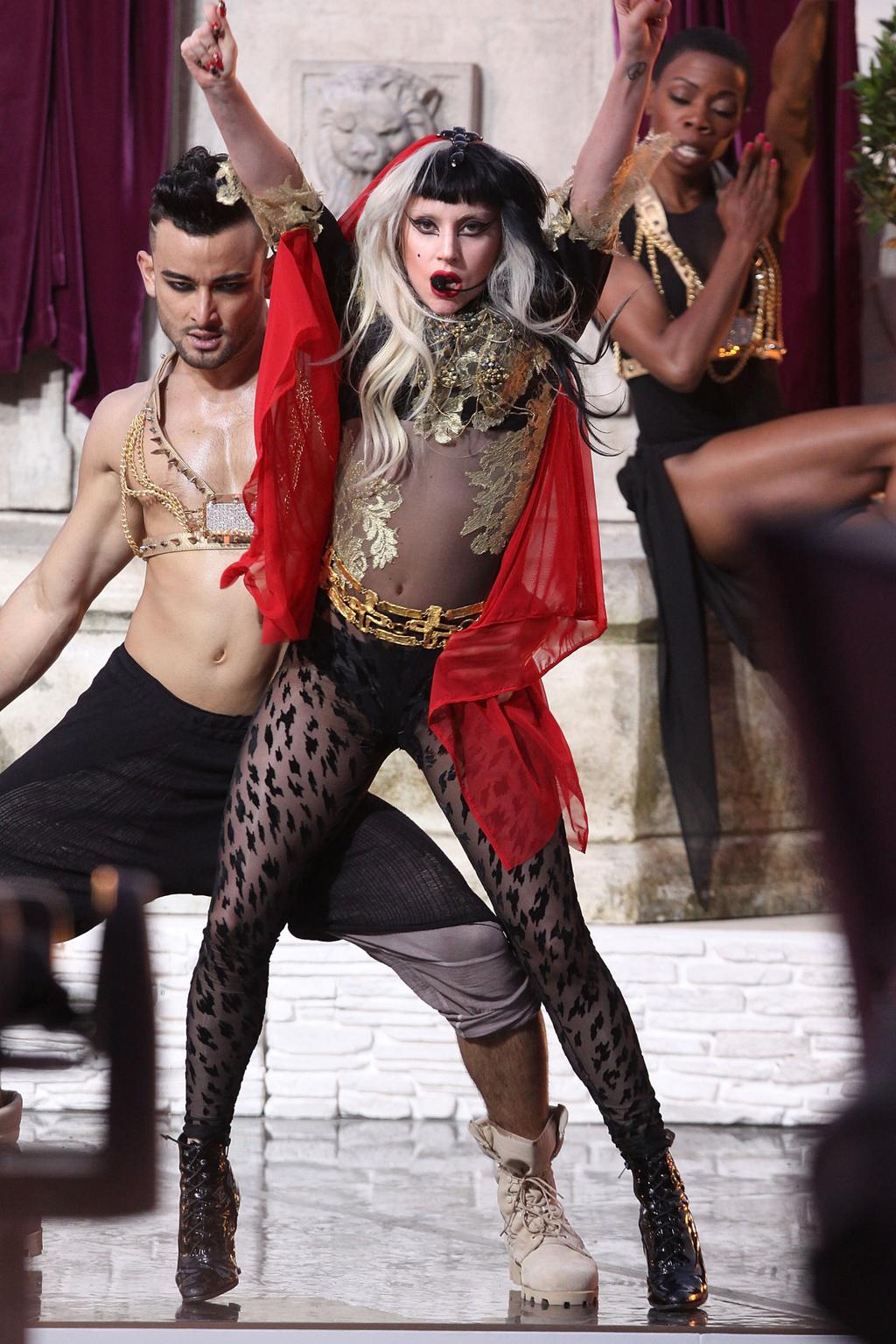 7/21
6. Exhibiting a semblance of Cruella de Vil realness, a monochrome wig, gold foil leaf detailing and a sheer leopard-print catsuit made up a memorable outfit at the 64th Annual Cannes Film Festival at Majestic Beach, 2011.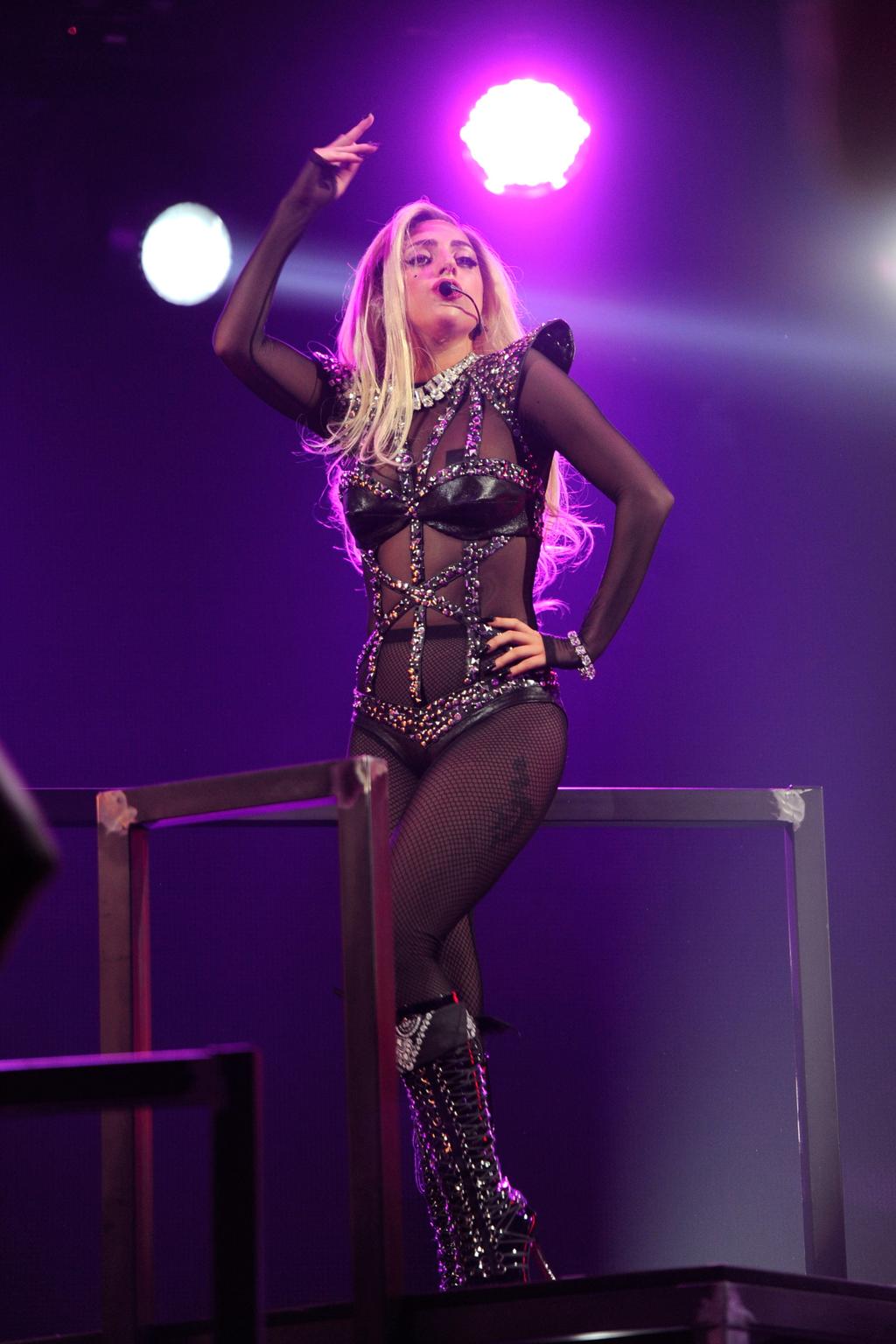 8/21
7. We were treated to an amalgamation of beading, leather and a sheer/fishnet hybrid complete with equally extravagant laced-up platform boots at iHeartRadio Music Festival.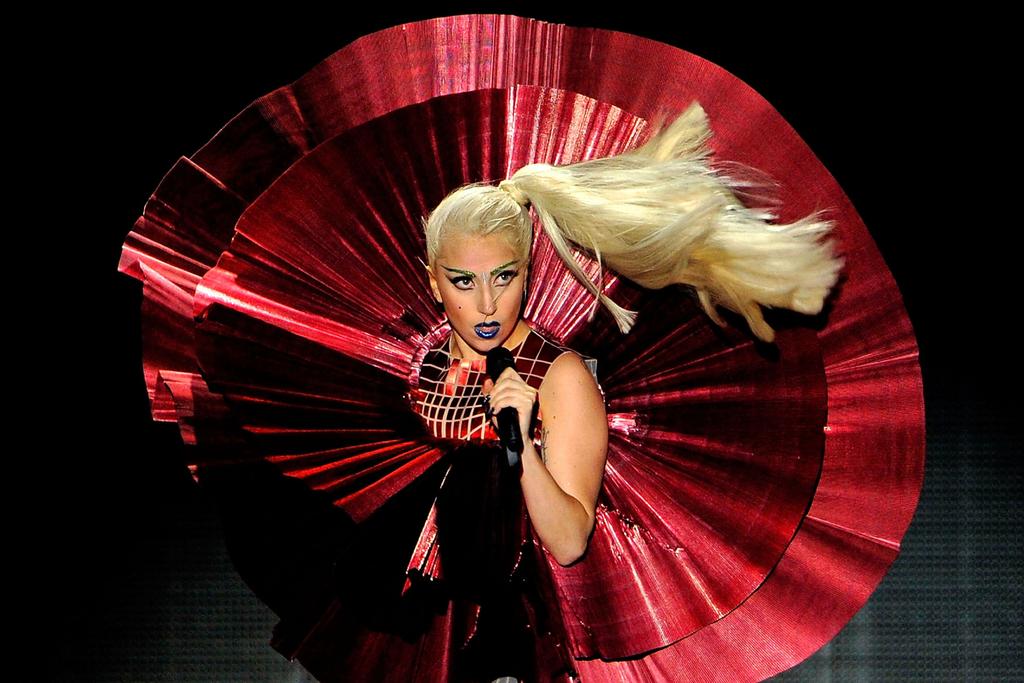 9/21
8. Gaga sizzled in a futuristic number created by ex-Paco Rabanne artistic director Manish Arora, emulating the revolutionary vintage Do it Yourself Rhodoid dresses. Plucked from the spring/summer '12/'13 collection, the iridescent dress was one of five outfit changes the star made that evening.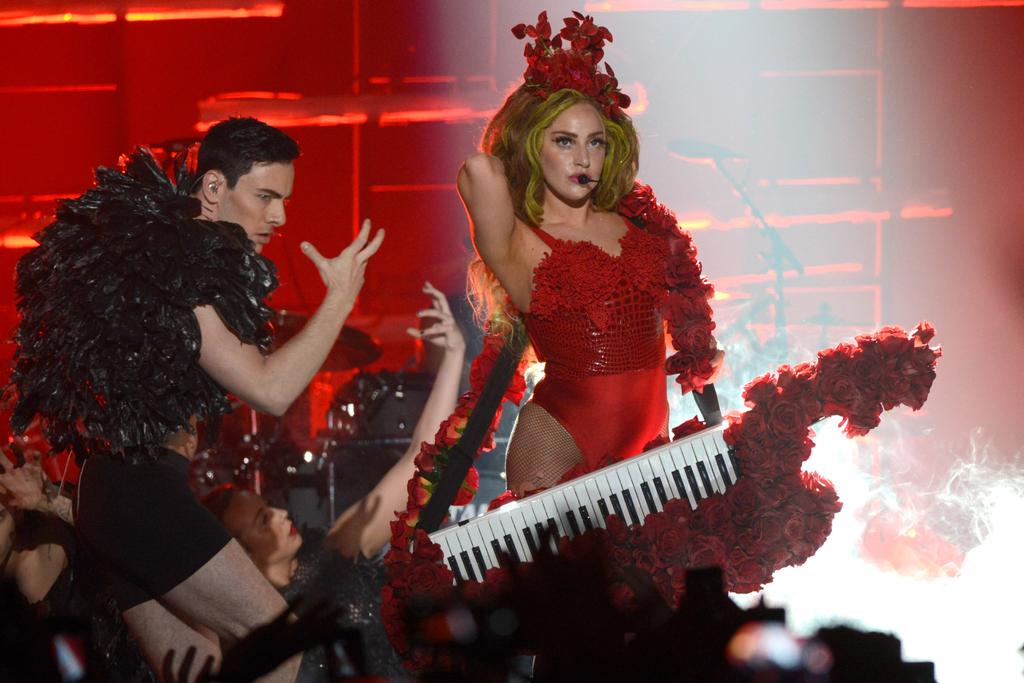 10/21
9. Kicking off the first night of her seven-day stint at the Manhattan Roseland Bowl in 2014, Gaga slipped on a custom floral-heavy outfit body by Eren Fidanci and a botanical headband by LA hat designer Arturo Ríos.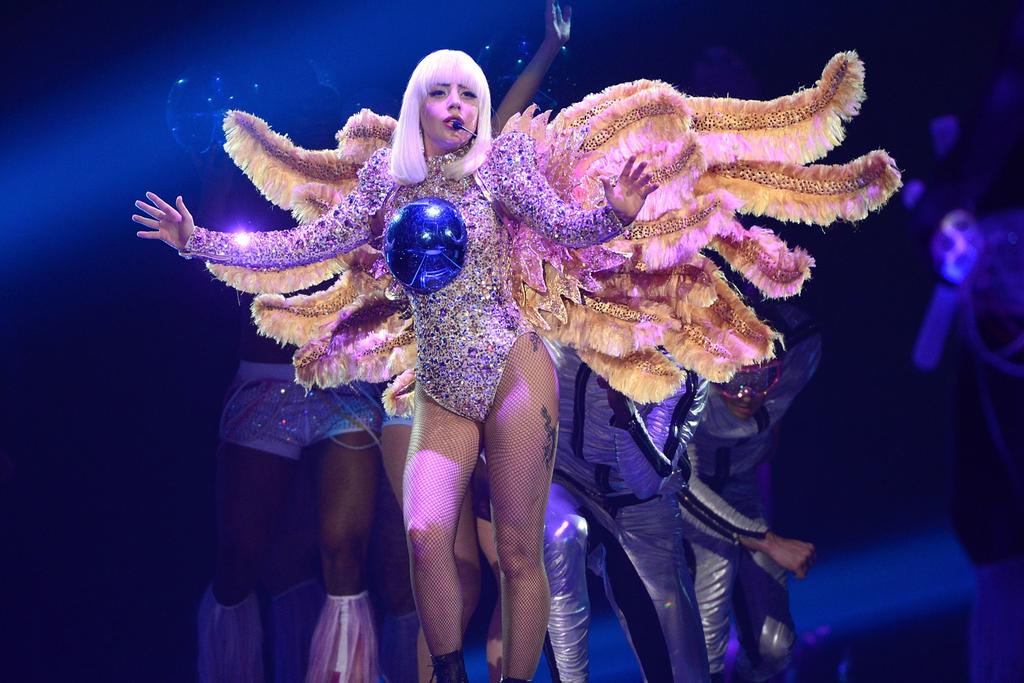 11/21
10. The Artpop era called for a larger-than-life tour with an equally eccentric wardrobe. The singer/songwriter's opening ArtRave show outfit, 2014, was the work of Atelier Versace, consisting of a jewel-encrusted body with a glossy ball on the chest, clad in ethereal wings made by Living Art of Armando.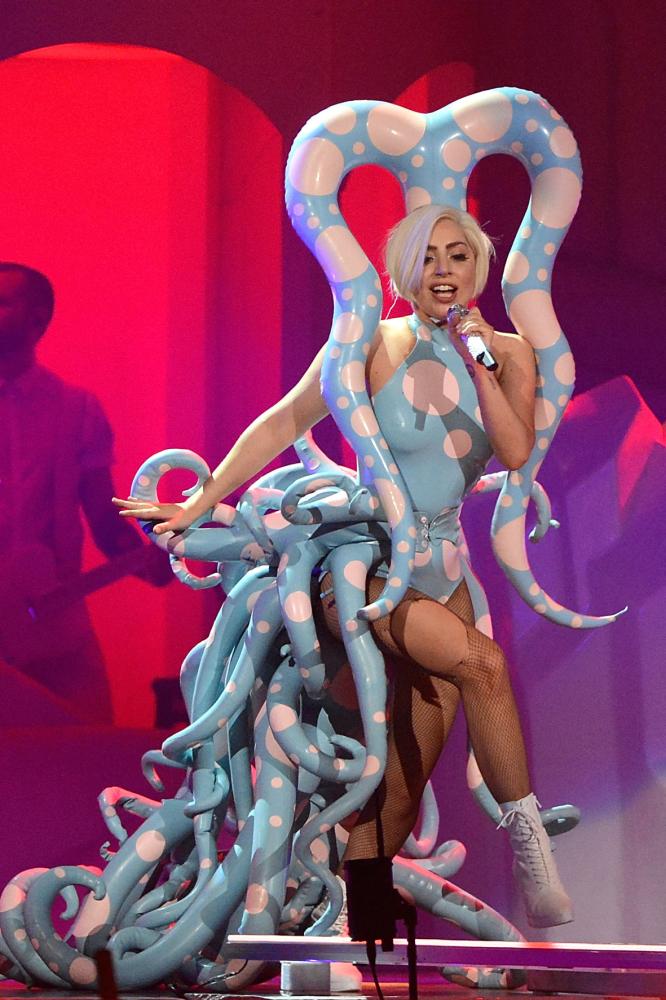 12/21
11. A multicoloured ballooned tentacle garment was one of the New York native's revolving tour outfits constructed by A-list-favoured latex company (Björk is a fan) Vex Clothing.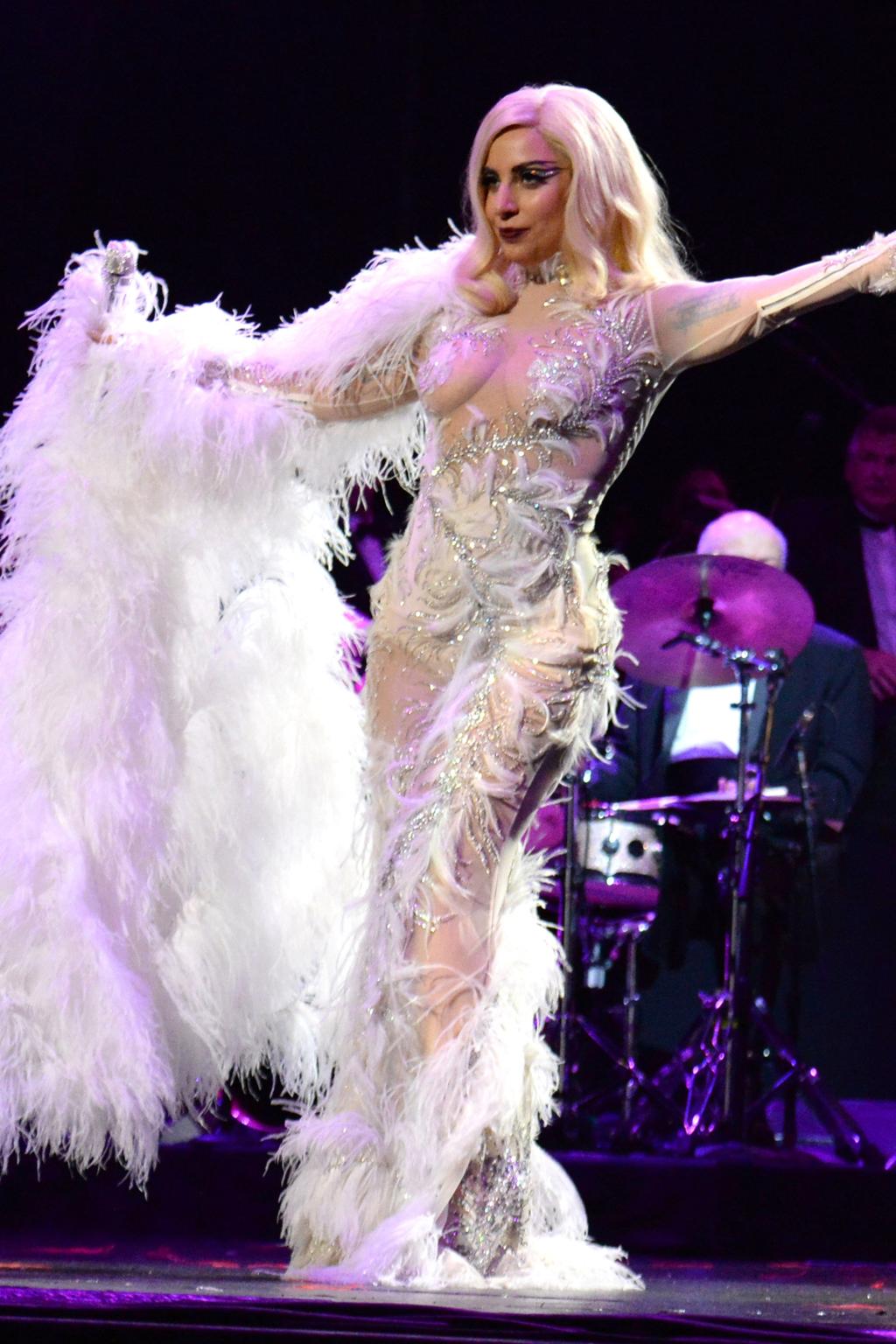 13/21
12. Performing with Tony Bennett promoting their award-winning album Cheek to Cheek in 2015, she strutted on stage in a figure-hugging Roberto Cavalli Atelier tulle gown, garnished with ivory feathers and Swarovski crystals.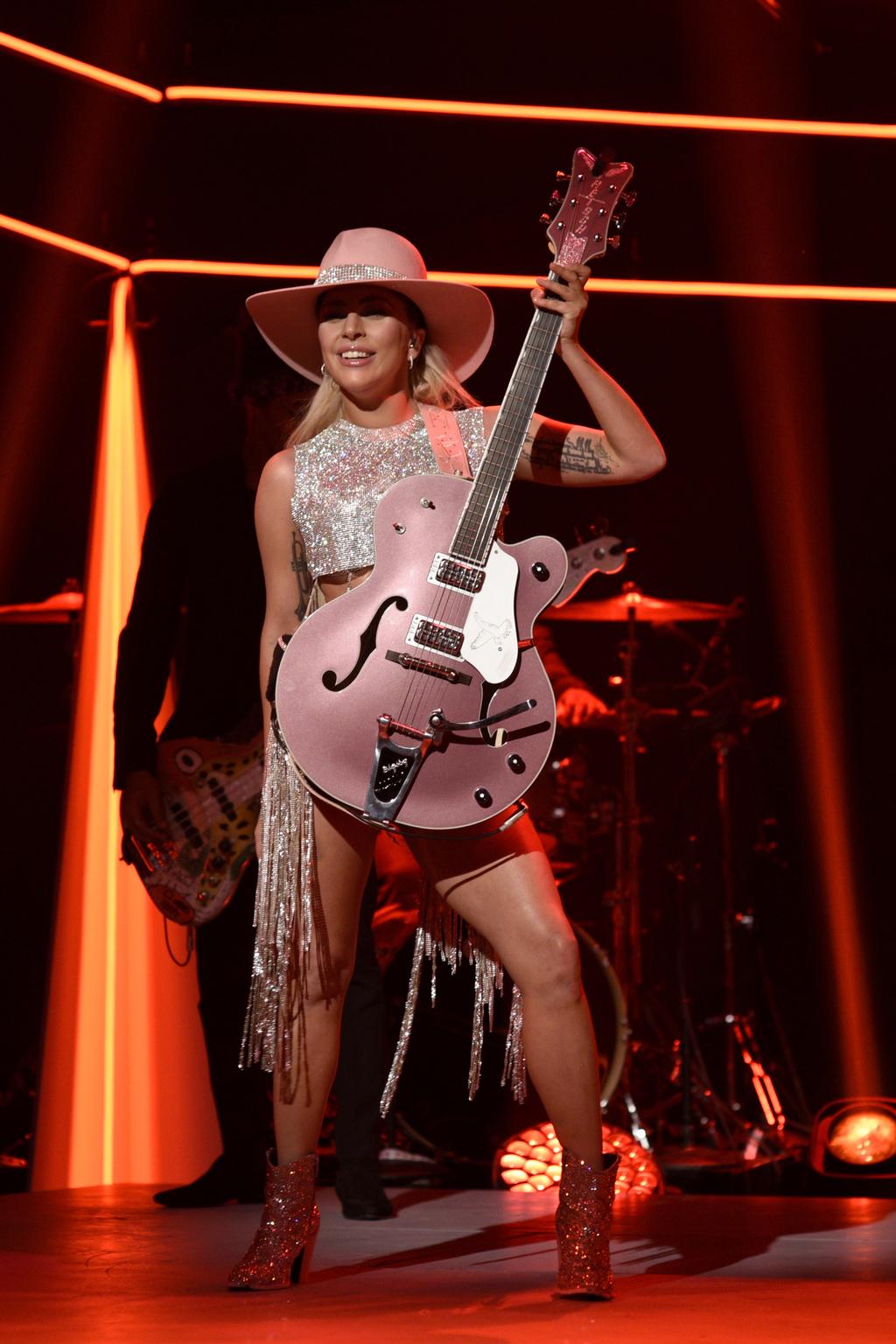 14/21
13. Belting out her single A-Yo, 2016, a Western-themed aesthetic was her choice on the night, settling for a pink cowboy hat, fringed silver top and Western boots.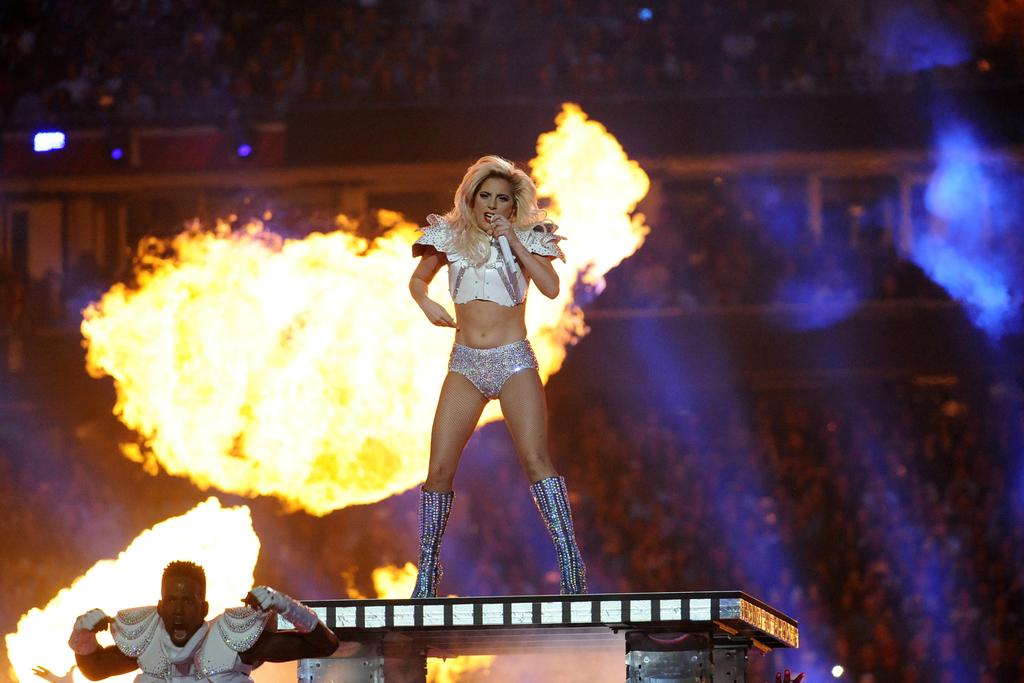 15/21
14. Undoubtedly one of the most defining performances of Gaga's career was the notable Pepsi Halftime Super Bowl show in 2017 where she set the stage alight in yet another shimmery outfit including bejewelled hot pants, boots and a cropped chest plate.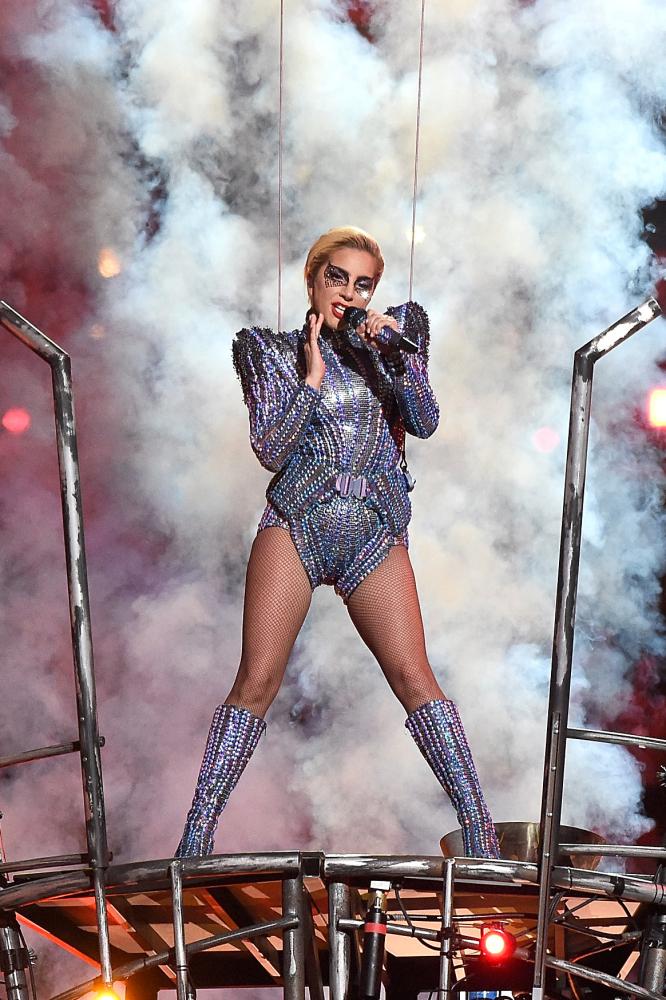 16/21
15. Gems galore was evidently on the singer's mind.
17/21
16. Weekend one of Coachella saw the Born This Way singer finish her 2017 set in yet another sheer sparkling bodysuit — noticing a theme here?
18/21
17. Norma Kamali designed a bespoke siren-red sleeping bag coat for her Joanne tour in 2017.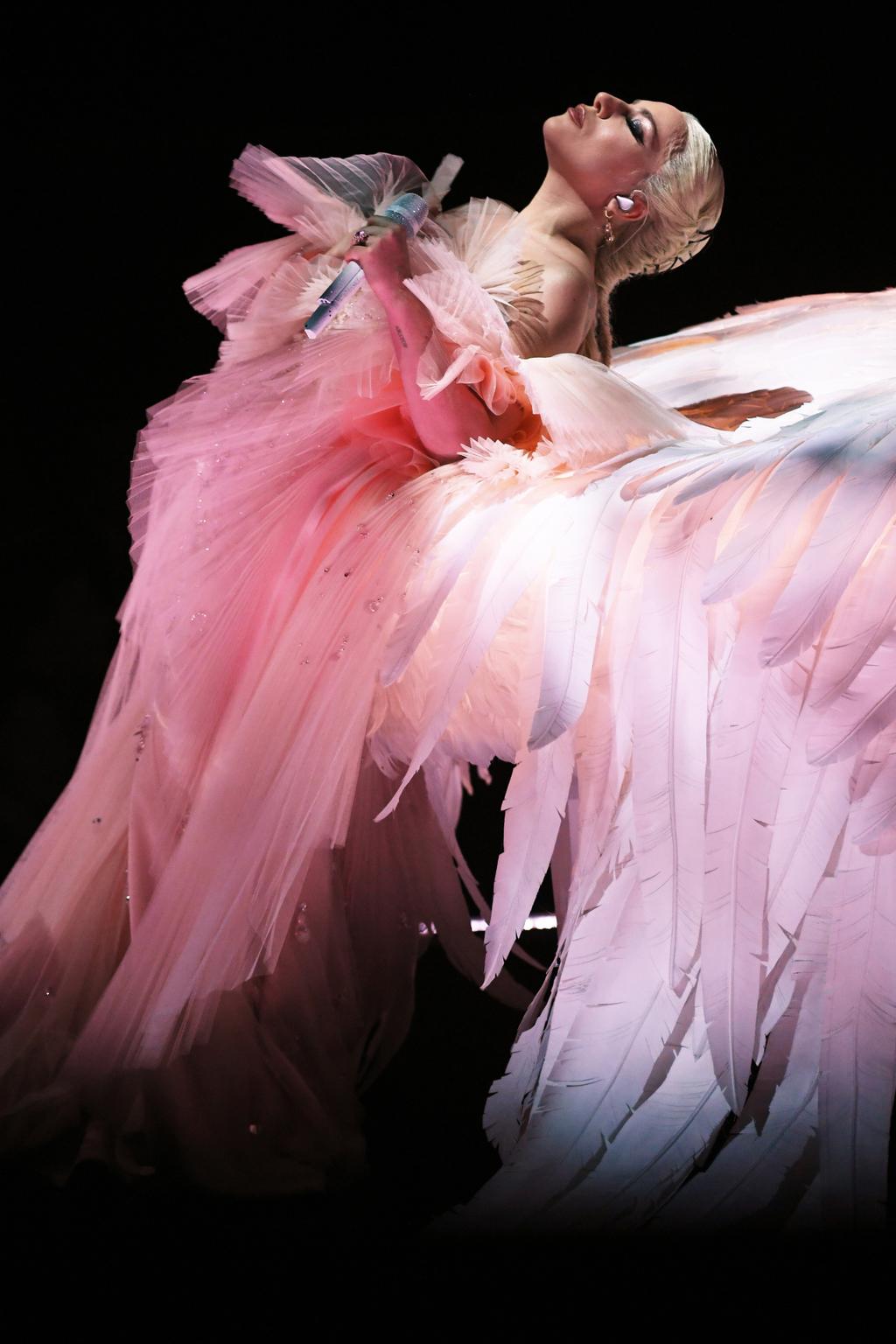 19/21
18. Opting for a more subdued performance in support of the Time's Up movement, she belted out Joanne and Million Reasons swathed in a pale pink gown.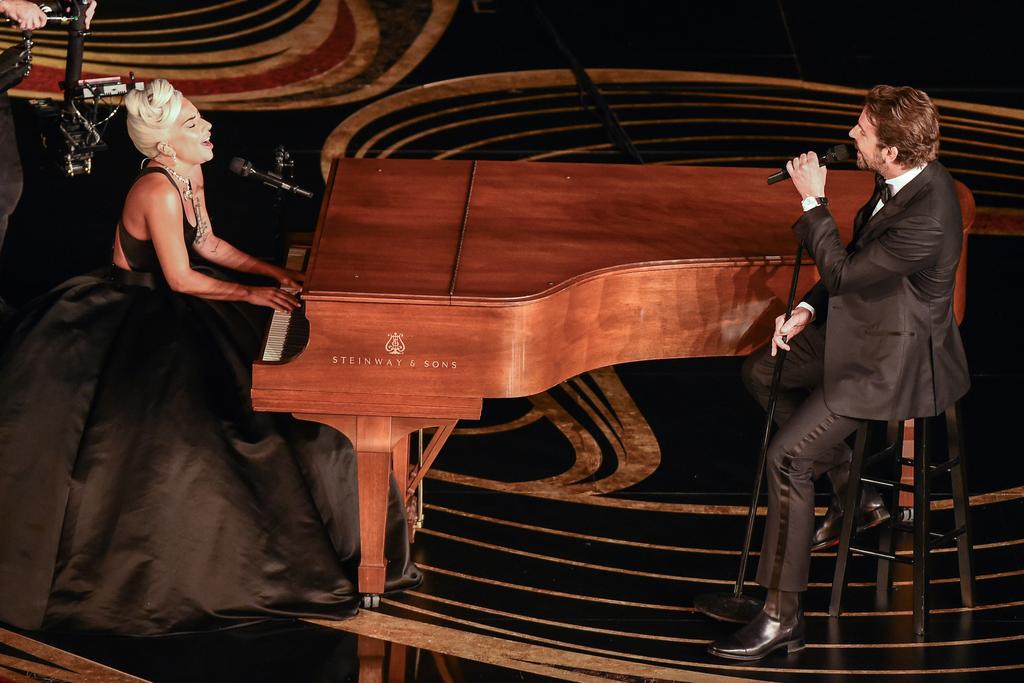 20/21
19. Performing the hit song Shallow from A Star Is Born with her on-screen co-star Bradley Cooper at the 2019 Oscars, Gaga wore an elegant Brandon Maxwell cut-out gown topped off with Tiffany jewellery.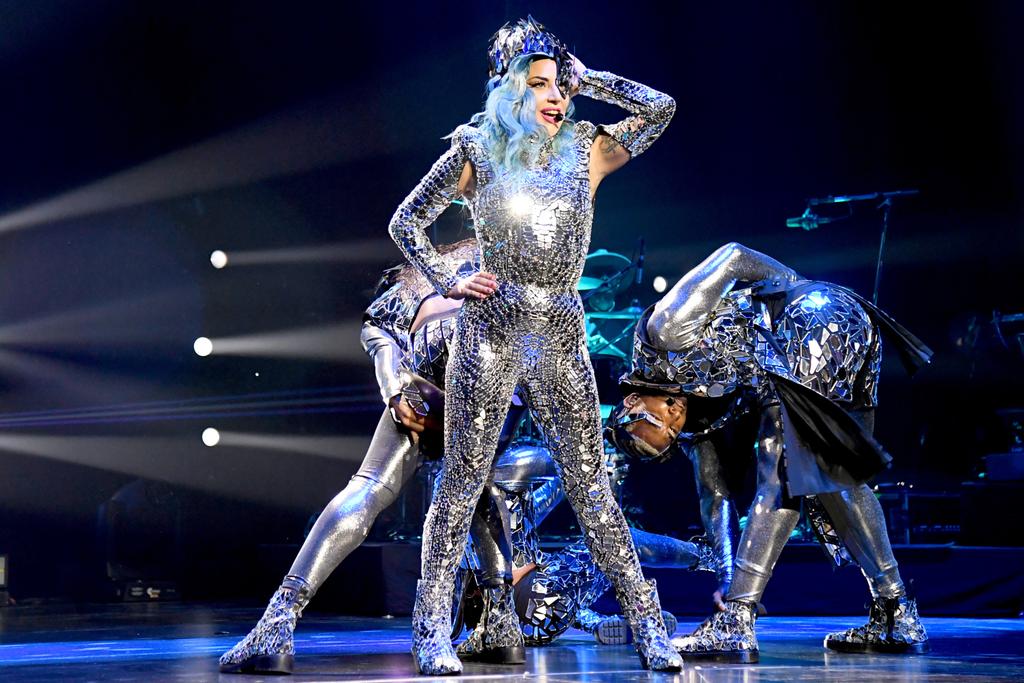 21/21
20. A Gaga performance wouldn't be the same without a tinge of Studio 54 glamour, and an evening performance in Florida this year was the opportune time to throw on a lustrous ensemble from her heaving archive.